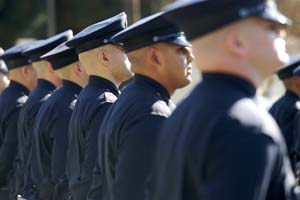 Abandoned as a child, 12-year-old is helped by the Eagle & Badge Foundation
When it comes to conquering obstacles; twelve-year-old Micah Blackwell has weathered the storm.
Traffic Safety Mural
A traffic safety mural that grew out of concerns about children being struck by cars throughout the city in large part to the generosity of the Eagle & Badge Foundation.
Eagle & Badge Foundation Plays Key Role in Relay for Life
The Eagle & Badge Foundation is proud to support LAPD officers who participate in raising money for cancer research. Relay for Life is more than just a fundraiser. It is an opportunity to get together with family and friends and celebrate cancer survivors, remember loved ones lost to cancer and fight back against this disease. With the help of the Eagle & Badge Foundation, LAPD officers have taken part in this inspirational event that takes place over 12 hours in many communities.
Officer Randal Simmons
When a police officer anywhere is killed in the line of duty, LAPD officers mourn along with the City and the family and then the Eagle & Badge Foundation does something about it. Every day when LAPD officers go on duty, they know the dangers they are facing, yet it is still devastating and shocking when we lose one of our own.
Lab takes on role of companion and lifeline
The Eagle & Badge's first donation in 2001 was for a specially trained dog for Jake, son of an LAPD Sergeant with moderately severe autism. With the help of the Eagle and Badge Foundation, Jake was provided with a Labrador retriever named Boo.
E&B supports 'Legacy of Love' Event
The Eagle & Badge Foundation has been honored to support the Randal D. Simmons Outreach Foundation in their efforts to honor Randal Simmons as well as to continue his legacy. We honored his memory July 19th at the Eagle & Badge Foundation (see separate article) and were proud to be in attendance at their first annual Legacy of Love event on December 7th at the Trump National Golf Club in Rancho Palos Verdes
In addition to the above projects, and individual donations to cover family and funeral expenses, the Eagle & Badge Foundation has also contributed to the following:
American Cancer Society
California Forensic Science Institute
California Narcotic Officers' Survivors' Memorial Fund
Camp CAACONAA (Come As a Child or Not At All) at the Church at Rocky Peak
Charlie Sears Memorial Golf Tournament
Hollenbeck Police Business Council's Salute to the LA Dodgers
LA/Ventura County Chapter of MADD
Los Angeles County District Attorney's DNA Crime Lab
Los Angeles Police Foundation
LAPD Explorers Financial Literacy Day
LAPD Family Support Group
LAPD Southeast Golf Tournament
LAPD - 77th Division, Memorial Waterfall
LAPD Metro Division's First Annual Randy Simmons 5K Challenge Run
MADD
MEND (Meet Each Need with Dignity
Makayla's Haven Foundation
North Valley Family YMCA Booster Club
National Kidney Foundation
Police Officer, Firefighter and Paramedic Recognition Luncheon
Randal D. Simmons Outreach Foundation
Ronald McDonald House
San Fernando Valley Coalition on Gangs (Gang Prevention)
Salesian High School
San Fernando Valley 2008 Children's Day
The Glory Kids
Traffic Safety Mural Project